On to what I watched last night and today thus far.
Last Night: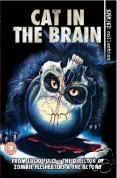 "A Cat In The Brain"... Plot Synopsis: Dr. Lucio Fulci is a director of splatterfilms. He stages a gestapo-orgy like it was any other movie scene. But he is influenced by these things more than he likes. He is hunted by bloody visions day by day. Is Fulci still normal? He asks a psychatrist. He doesn't know that the psychatrist has much bigger problems than Fulci himself. The psychatrist uses Fulci's visions for brutal murders in real life...
This one was a total gorefest. I've seen the majority of Fulci's achievements, but this one was definitely the goriest of them all. He was directing a horror film inside of a horror film and was having issues determining what was in his movie and what was reality. He kept having random visions of all sorts of decapitations, mutilations, torture, and zombies in wheelchairs. My favorite part about this was in fact the zombie in the wheelchair. I feel pretty confident it was a first and probably a last since he lasted about 10 seconds before being decapitated. The storyline wasn't that great, but it was nonstop action on the gore factor. It's a shame that it is so hard to find a copy of this dvd in region 1. I would watch it again, but to anyone interested in Fulci's work I would Recommend "The Beyond", "Don't Torture A Duckling", or "House By The Cemetery" as a better starting place. 3.5/5.
Today:

"Faster, Pussycat! Kill! Kill!"... Plot Synopsis: Three strippers seeking thrills encounter a young couple in the desert. After dispatching the boyfriend, they take the girl hostage and begin scheming on a crippled old man living with his two sons in the desert, reputedly hiding a tidy sum of cash. They become houseguests of the old man and try and seduce the sons in an attempt to locate the money, not realizing that the old man has a few sinister intentions of his own.
Really cool 60's movie. I'm not a huge fan of movies this old (since most are outdated), but this one was actually worth watching. The storyline flowed together well and the acting was pretty good. It was apparent that a lot of the dialog with Tura Santana's character was really forced. None of the "superwomen" were as convincing as I was expecting, but since it was made in the 60's I will give them the benefit of the doubt. Other than the forced dialog it was a perfect B movie. Karate chops, Car races, a handicapped pedophile, and some funny fights scenes made the movie worth watching. I would watch it again, and recommend it to anyone. 4/5.
Next up the movies mentioned on the last entry, and Dracula vs. Frankenstein tomorrow. Maybe even something different as what I watch is based entirely on my mood. I took this from an article on www.dreadcentral.com concerning the release of Dario Argento's outrageously lengthy coming out of the third installment of the three mothers trilogy "The Mother of Tears".
We're still waiting to find out when we'll finally get to see Dario Argento's final installment in his Mothers trilogy, The Mother of Tears, but at least we have a creepy image of the titular character to tide us over for now.
The film, penned by Adam Gierasch and Jace Anderson with re-writes done by Argento himself, is the final installment in the trilogy started with Suspiria and continued on in Inferno. Claudio Simonetti returned to score Tears, which he recently said took him almost 4 months to get done. No wonder it's taking so long to get released!
Asia, as I'm sure you recall, stars in the movie as an American art student who unwittingly opens an urn that unleashes the most powerful of witches, causing all sorts of havoc and suicides.
-vince
Current Music: zombi- challenger deep